Hello all, I do hope you all are having a blessed day!
Today is another day that our beloved FATHER GOD has made for us to give HIM glory and praise! And to start a new life with GOD and HIS SON JESUS in full repentance!
Being covered, warm, comfortable, protected and knowing you are loved! These are my thought for today….well most days I will say. There maybe times when there are situations that you may run into for a fleeting time, but they pass because our GOD is in control. Thankfully all of us who have faith know this. Those who do not are forever complaining and do not trust in the LORD yet.
But I tell you the other day from being sooo very tired from work at my job, ( I had to put the business on hold for right now. But it is okay. I trust in the LORD for direction for that!) When I was able to get into bed, the bed was so comfortable and peaceful.
When I think about how blessed it is to be loved by such a an all knowing and powerful GOD of all heaven and earth, I am in awe! Because we are all of HIS creation. HE watches over all mankind, the righteous and the wicked. The sun shines on us all and the rain comes down on us all. Some of us are "woke" to righteousness and some of us are in a deep slumber where are we see is negativity and carnal thinking.
See , I do not want to be where our beloved GOD and HIS son JESUS is not. Think all about what our JESUS has done for all of us mankind to keep us with HIM.
He was abused and beaten to the point as to where JESUS gave HIS life for all of us mankind. Nailed to a cross through HIS hands and feet. Tortured and totally disrespected. Yet there are still people to this day who act and treat other mankind just as bad all through history. Sad. Very sad.
For these people who love the darkness and are afraid of the light. will not enter into the kingdom of heaven if they do not repent. They will not feel that love of comfort, peace, feeling loved ,and protected by our heavenly Creator. Nope. Instead of being with our Creator for all eternity long, they will be with the worst trouble maker of all time. You know who I mean, satan.
And he does not want to be in hell either. He wanted to take over heaven so he could rule it. And seeing that, that did not happen satan is giving all mankind that he can a hard time. Those that are not followers of JESUS and are saved are fooled easy. Easier than those who are saved read the word and trust in GOD, and are saved through the blood of JESUS.
Praise GOD and thank GOD for JESUS!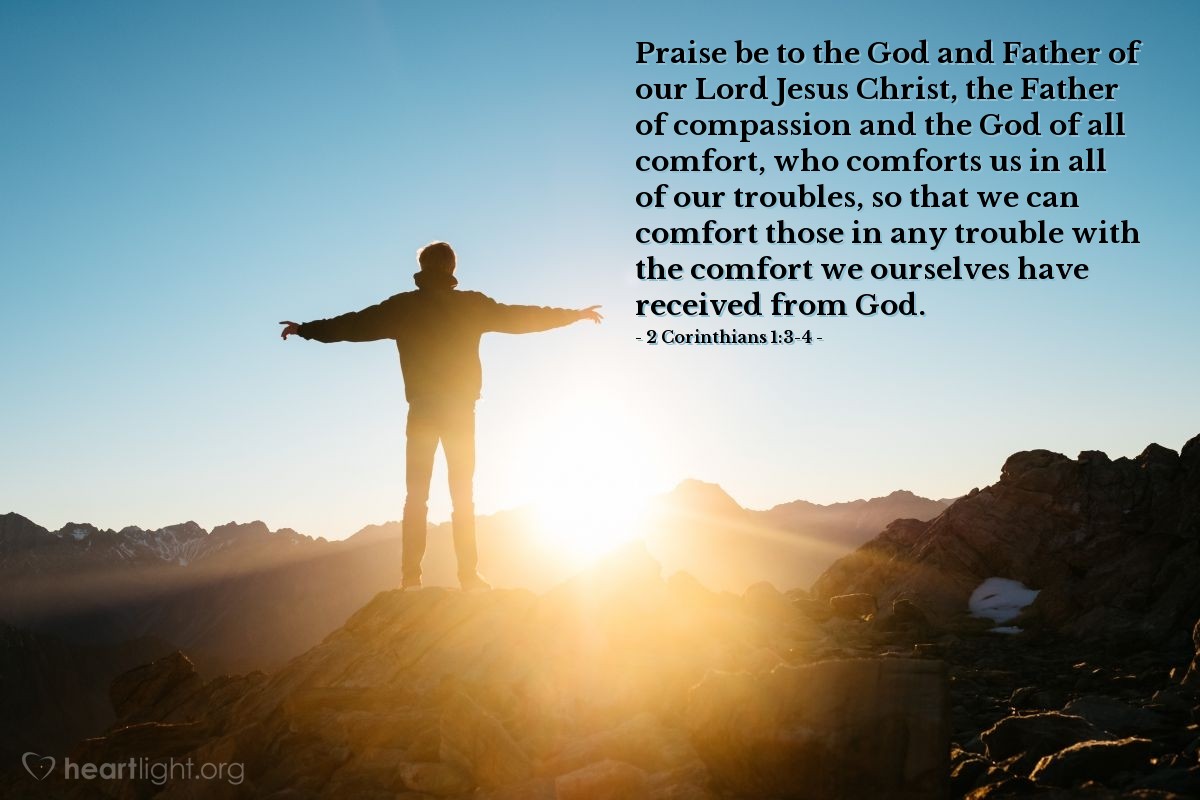 Bible Verses About Comfort
2 Corinthians 1:3-4 – Blessed be God, even the Father of our Lord Jesus Christ, the Father of mercies, and the God of all comfort; (Read More…)

Matthew 11:28-30 – Come unto me, all ye that labour and are heavy laden, and I will give you rest. (Read More…)

Matthew 5:1-48 – And seeing the multitudes, he went up into a mountain: and when he was set, his disciples came unto him: (Read More…)

Psalms 23:4 – Yea, though I walk through the valley of the shadow of death, I will fear no evil: for thou art with me; thy rod and thy staff they comfort me.

Psalms 91:1-16 – He that dwelleth in the secret place of the most High shall abide under the shadow of the Almighty. (Read More…)

Romans 8:26-28 – Likewise the Spirit also helpeth our infirmities: for we know not what we should pray for as we ought: but the Spirit itself maketh intercession for us with groanings which cannot be uttered. (Read More…)

Romans 8:32-39 – He that spared not his own Son, but delivered him up for us all, how shall he not with him also freely give us all things? (Read More…)

Psalms 119:76 – Let, I pray thee, thy merciful kindness be for my comfort, according to thy word unto thy servant.

Psalms 119:49-51 – ZAIN. Remember the word unto thy servant, upon which thou hast caused me to hope. (Read More…)

Isaiah 40:1-2 – Comfort ye, comfort ye my people, saith your God. (Read More…)

Psalms 1:1-6 – Blessed is the man that walketh not in the counsel of the ungodly, nor standeth in the way of sinners, nor sitteth in the seat of the scornful. (Read More…)

Psalms 119:50 – This is my comfort in my affliction: for thy word hath quickened me.

Psalms 86:17 – Shew me a token for good; that they which hate me may see it, and be ashamed: because thou, LORD, hast holpen me, and comforted me.

Isaiah 49:13 – Sing, O heavens; and be joyful, O earth; and break forth into singing, O mountains: for the LORD hath comforted his people, and will have mercy upon his afflicted.

Isaiah 51:12 – I, even I, am he that comforteth you: who art thou, that thou shouldest be afraid of a man that shall die, and of the son of man which shall be made as grass;

Isaiah 12:1 – And in that day thou shalt say, O LORD, I will praise thee: though thou wast angry with me, thine anger is turned away, and thou comfortedst me.

John 16:22 – And ye now therefore have sorrow: but I will see you again, and your heart shall rejoice, and your joy no man taketh from you.

Psalms 18:1-50 – (To the chief Musician, A Psalm of David, the servant of the LORD, who spake unto the LORD the words of this song in the day that the LORD delivered him from the hand of all his enemies, and from the hand of Saul: And he said,) I will love thee, O LORD, my strength. (Read More…)
The above readings of the word can be found when you click on the highlighted words at King James Online.com. This site is very helpful. You can research all from your phone these days besides the computer. So I do hope that this is helpful to you as you read the word of the LORD GOD for comfort.
The Comfort from our loving FATHER GOD and HIS son JESUS is unmeasurable and is expressed in these scriptures. And I hope that these will help you as you go through these trying times. Some people are so stressed right now from all that has gone on from the effects of COVID 19 that they are left confused as to what to do.
And this is why we need to STAY in prayer so we can hear what our GOD is telling us. We need our praying to also open our ears to hear our FATHER GOD. For the answer HE gives may not be the one you want or expect to hear. For if you knew the right answer , then you would not need our GOD to help you. Nor HIS son JESUS for salvation.
Find HOLY comfort in our GOD at all times. Hold on to GOD and never let go.
Thank you for stopping by to join me at my blog. Please do share this with others who may need to have have some comfort for what ever they are going through. They need to know they are loved. Have a blessed day, share and please do click on the like button below too please and thank you!
Peace!!!