Hello everyone, thank you for stopping by!
I am thankful that you all have taken the time to stop by and share the good news of the LORD GOD.
For to know that we are loved by such a powerful one and only TRUE GOD of all heaven and earth is so awesome and comforting. For then we know nothing is more powerful than HE is and HE will protect us at all times.
GOD is good.
Let us give thanks for the day were are here right now, and if we were able to share the Thanksgiving day with family or friends. Or even if you chose to have quiet time to yourself with our beloved GOD and HIS son JESUS it is still with family and friends!
GOD is good.
There is an old saying that we should count our blessings, especially when you are going through a situation that you did not see coming. Say you had saved up money for a rainy day. Then you wind up needing to spend that money on a heating bill or a new tire for your car!
The LORD provided for you. HE had you hold on to that money for that time so you would not be without help. You didn't know the tire was wearing out, it looked god a month or so ago. But now as you look at it flat you do see the wear you put on it since you last checked it a month or so. See? GOD provides and you didn't even see it coming.
GOD is good!
Giving thanks to our beloved FATHER GOD though reading of HIS loving words. It is so comforting. For this alone of many, to set as an example of why we wait on the LORD is a good one. Here is some scripture to read as help.
Bible verses related to Giving Thanks from the King James Version (KJV) by Relevance
1 Thessalonians 5:18 – In every thing give thanks: for this is the will of God in Christ Jesus concerning you.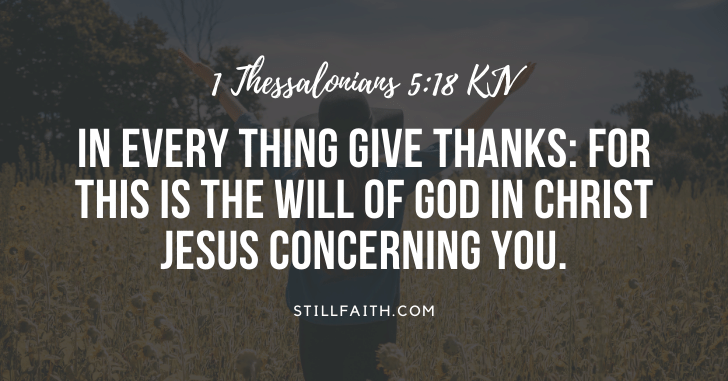 Colossians 3:17 – And whatsoever ye do in word or deed, do all in the name of the Lord Jesus, giving thanks to God and the Father by him.

Psalms 100:1-5 – (A Psalm of praise.) Make a joyful noise unto the LORD, all ye lands. (Read More…)

Psalms 150:6 – Let every thing that hath breath praise the LORD. Praise ye the LORD.

Philippians 4:6 – Be careful for nothing; but in every thing by prayer and supplication with thanksgiving let your requests be made known unto God.

1 Chronicles 29:10-20 – Wherefore David blessed the LORD before all the congregation: and David said, Blessed be thou, LORD God of Israel our father, for ever and ever. (Read More…)

2 Corinthians 9:7 – Every man according as he purposeth in his heart, so let him give; not grudgingly, or of necessity: for God loveth a cheerful giver.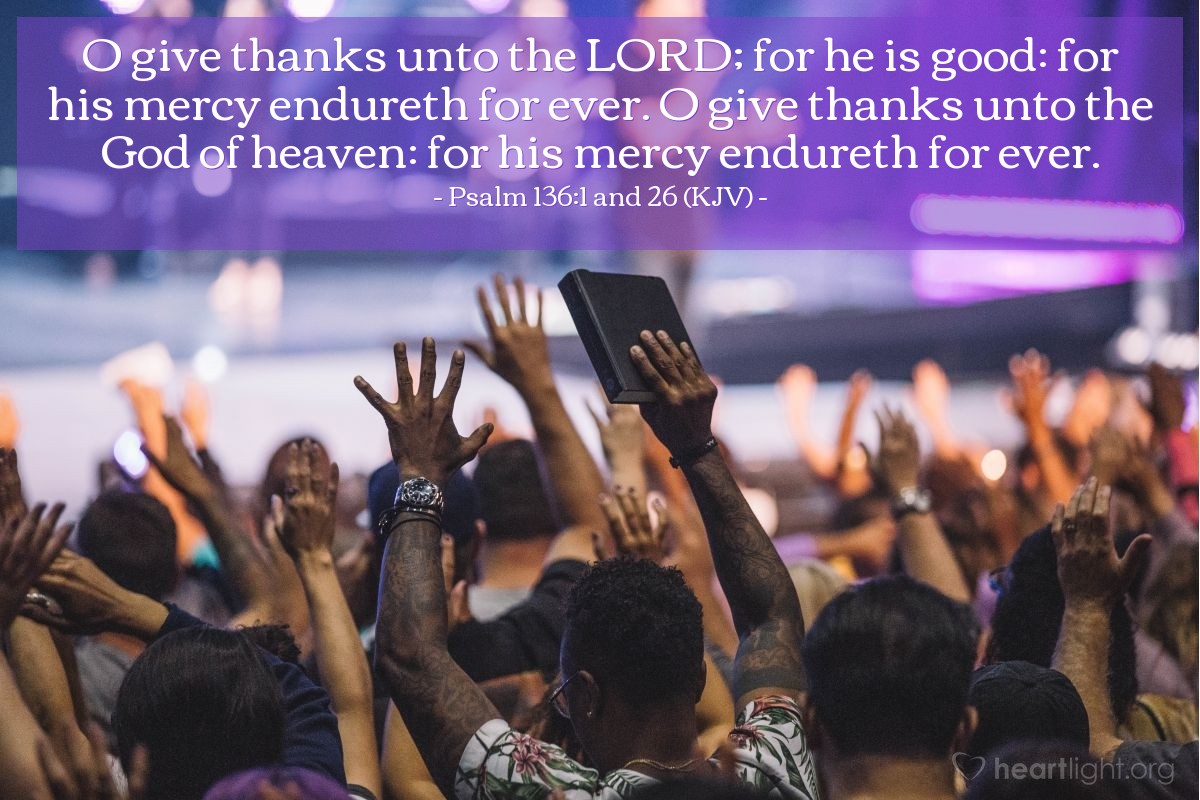 James 1:17 – Every good gift and every perfect gift is from above, and cometh down from the Father of lights, with whom is no variableness, neither shadow of turning.

Luke 6:38 – Give, and it shall be given unto you; good measure, pressed down, and shaken together, and running over, shall men give into your bosom. For with the same measure that ye mete withal it shall be measured to you again.

Psalms 136:1 – 127:26 – O give thanks unto the LORD; for he is good: for his mercy endureth for ever. (Read More…)

Psalms 92:1 – (A Psalm or Song for the sabbath day.) It is a good thing to give thanks unto the LORD, and to sing praises unto thy name, O most High:

1 Chronicles 29:13 – Now therefore, our God, we thank thee, and praise thy glorious name.

Psalms 107:1 – O give thanks unto the LORD, for he is good: for his mercy endureth for ever.

Hebrews 13:15 – By him therefore let us offer the sacrifice of praise to God continually, that is, the fruit of our lips giving thanks to his name.

Ephesians 5:20 – Giving thanks always for all things unto God and the Father in the name of our Lord Jesus Christ;

Psalms 9:1-2 – (To the chief Musician upon Muthlabben, A Psalm of David.) I will praise thee, O LORD, with my whole heart; I will shew forth all thy marvellous works. (Read More…)
I will tell you that I am so grateful to know there is a mighty GOD I serve who loves me. Who loves me so that HE gave HIS son as proof on this earth we live in right now who will protect all until it is our time to be called home to be with HIM. The same GOD who looks out for all of us who does love HIM and will strive to be with HIM through HIS son JESUS as we accept Him as savior!
For when we have done a good job by JESUS and have HIM say well done, is what we should aim for from freedom of this fallen world. The world the way it is right now is not how our GOD had intended it to be. But we mankind had been distracted from out loving GOD and made things the way they are from the weakness of temptation from the devil.
But GOD is so forgiving He gave all mankind a second chance to do right. Forgiveness from GOD is a gift through JESUS.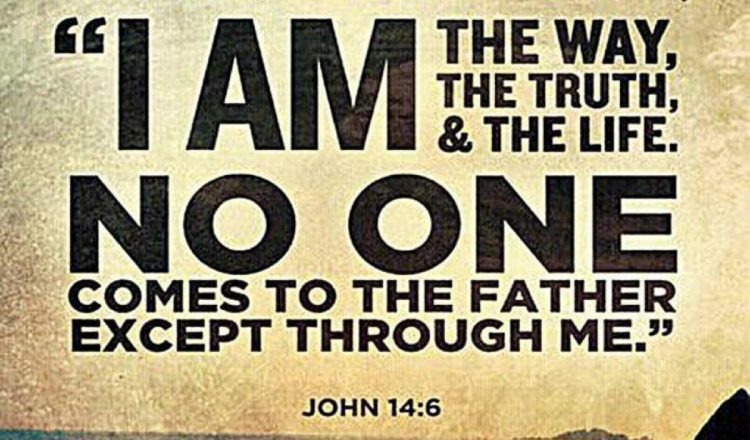 Let us all be thankful for our savior JESUS! Let JESUS know every single day you have breath that you are grateful for Him making a way for you into heaven to be with the FATHER GOD in heaven for all eternity.
Feel free to share this post and the message. Please do hit the like button and share the word of GOD to encourage others who need a "Holy Spirit Boost" to their faith! And to know GOD is love.
Peace!!!!