Hebrews 12:2
"Looking unto Jesus the author and finisher of our faith; who for the joy that was set before him endured the cross, despising the shame, and is set down at the right hand of the throne of God."

King James Version (KJV)
Hello all,
I do hope that you all have had and will have a blessed day and night . I do hope you all will be blessed each time you read the word of our beloved FATHER GOD, and pray at all times through your day. For we all need to keep diligent in prayer. For our enemy satan will come after the weak in faith and those of us who do not know any scripture as a weapon against all evil.
As a small child raised in a praying and faithful home, I would remember the people who were in the Bible who followed JESUS and listened to His teachings. All of the disciples, and the other men and women he spoke to that were able to look into HIs loving eyes and feel that love too!
To have a perfect and loving friend like this you could sit down and see, who could hug you to give you comfort when you needed it too! To understand and guide you in all that you do….face to face. To have a meal with who gave teachings and wisdom, showing you the way to heaven.
The elders in the Bible saw JESUS. Looking into the eyes of JESUS, they saw GOD for JESUS is the son of the one and only true living GOD of all heaven , earth and creation too. They were in their way at that time to be blessed to see JESUS. And all of them who believed and kept the faith going to spread the Gospel of JESUS were blessed too.
I do know that our beloved JESUS will be coming soon. But as the same with our beloved JESUS, I do not know when. So along my ways in traveling through each day that I can, our beloved FATHER GOD will guide me as what to when and what for others in scripture to give them the comfort they need. In our GODS word.
Seeing images of JESUS on the cross is hurtful, to see love on the cross. Because I do love JESUS , and to see one you love so going thru what He did is why it hurts. Because JESUS came to save all mankind. Not just some of us mankind, but all. And as hurtful to see JESUS had suffered so, I am grateful for JESUS being my savior and LORD.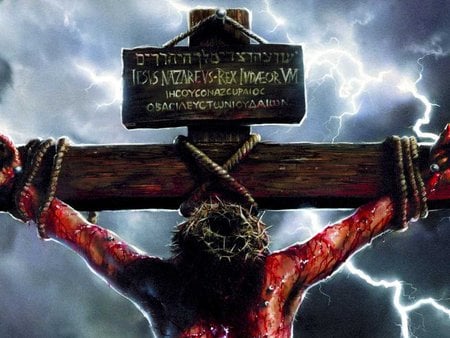 .

Hebrews 9:12 – Neither by the blood of goats and calves, but by his own blood he entered in once into the holy place, having obtained eternal redemption for us.

Exodus 12:13 – And the blood shall be to you for a token upon the houses where ye are: and when I see the blood, I will pass over you, and the plague shall not be upon you to destroy you, when I smite the land of Egypt.

1 John 2:2 – And he is the propitiation for our sins: and not for ours only, but also for the sins of the whole world.

Revelation 1:5 – And from Jesus Christ, who is the faithful witness, and the first begotten of the dead, and the prince of the kings of the earth. Unto him that loved us, and washed us from our sins in his own blood,

Revelation 12:11 – And they overcame him by the blood of the Lamb, and by the word of their testimony; and they loved not their lives unto the death.

Hebrews 13:20 – Now the God of peace, that brought again from the dead our Lord Jesus, that great shepherd of the sheep, through the blood of the everlasting covenant,

Philippians 4:6-7 – Be careful for nothing; but in every thing by prayer and supplication with thanksgiving let your requests be made known unto God.   

Hebrews 9:14 – How much more shall the blood of Christ, who through the eternal Spirit offered himself without spot to God, purge your conscience from dead works to serve the living God?

Hebrews 10:4 – For it is not possible that the blood of bulls and of goats should take away sins.

Tell JESUS thank you today! Please do click on the like button below. Pass this message forward to others who love JESUS or need to know Him! Share! Have a blessed day in the word of GOD as well too.
Peace and blessings!