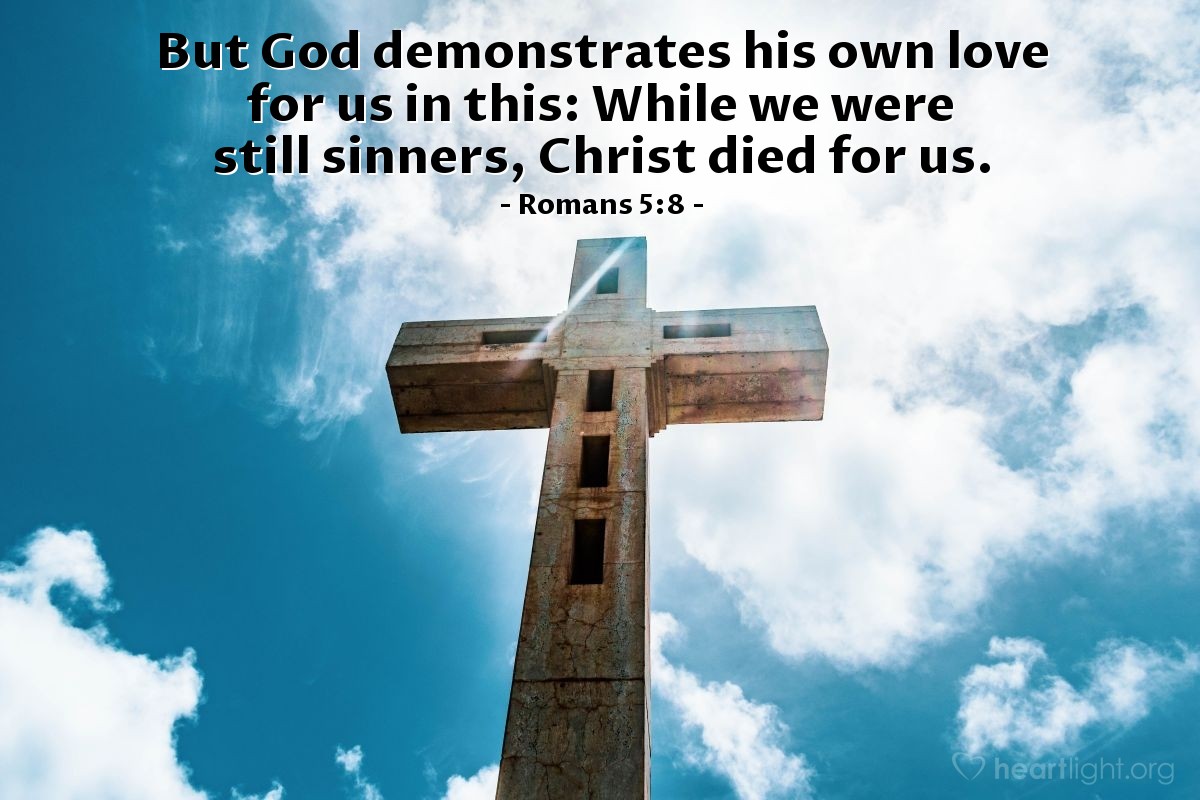 Romans 5:8
"But God commendeth his love toward us, in that, while we were yet sinners, Christ died for us."

King James Version (KJV)
Hello all!
I pray all is well, and that our beloved GOD and HIS son be with you to keep you and guide you on GOD's path of righteousness. For in these days and times it is very easy to be distracted off of the road to righteousness!
If you ever have the of feeling being unloved, remember who gave His life on a cross! Our beloved JESUS! What man or woman do you know that personally that was pure, and with no blemish that has never sinned that could do what our beloved JESUS could do what JESUS had done?
1 John 1:8
"If we say that we have no sin, we deceive ourselves, and the truth is not in us."

King James Version (KJV)
Tormented in HIS last day by those He came to save from the sins they have done too! Our beloved JESUS was nailed to the cross. Mocked, spat on, stabbed to His side while on the cross. And yet JESUS still loved those that was harming Him. He knew they did not understand what they were doing.
Luke 23:34
"Then said Jesus, Father, forgive them; for they know not what they do. And they parted his raiment, and cast lots."

King James Version (KJV)
There is no love greater than of our GOD and HIS son JESUS! You can feel the awfulness of what was done to JESUS as we ourselves go through the nonsense of this world. We may suffer from the sins of what the hands of others may try to do who are not saved. But I tell you we are rescued from them by the hands of JESUS. And then woe unto those who aim to do harm to the righteous, for our GOD will deal with them.
Romans 12:19
"Dearly beloved, avenge not yourselves, but rather give place unto wrath: for it is written, Vengeance is mine; I will repay, saith the Lord."

King James Version (KJV)
See our good ever loving FATHER GOD takes care of HIS own. Those who do us harm will suffer fairly for what they do to all of us who love GOD and HIS beloved son JESUS. GOD will judge them to how HE sees fit. This is how much GOD and JESUS loves us. There is no measure known to mankind just how much GOD loves us. None. The fact that there is a powerful loving GOD watching over us is more than any human can understand.
And once we accept the gift of salvation thru GOD's son JESUS you can feel the perfect love from GOD and His son touching you like the suns beams on your body! The touch of a summers breeze on a hot day to cool your skin! The sounds around you of nature as though they too were singing praises to our Creator GOD!
GOD loves us so. We are HIS creation made with love. To share love with each other as we love ourselves in unity with GOD and HIS son first. And then with our fellow mankind to all be in the body of Christ JESUS! And in the family of GOD!
Please do pray and stay in touch with our FATHER GOD as we go through the day so we will always hear how much HE does love us. To continue to feel them with us as we go along our days here on earth until we make it into heaven to see our beloved FATHER GOD from our beloved JESUS!
Have a blessed day. Please do share this blog with others who need to know just how much they are loved when they feel depressed so that they will be lifted up. And encouraged too. Please do pass and share the message with others and click on the like button below. Thank you. And thank for stopping by to share the word of GOD!
Peace!!!!