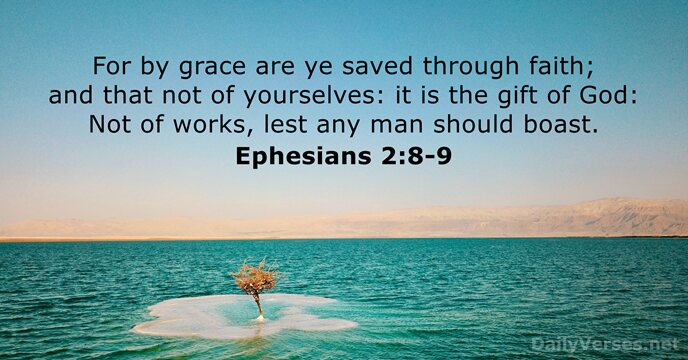 ..
Ephesians Chapter 2
8 For by grace are ye saved through faith; and that not of yourselves: it is the gift of God:
9 Not of works, lest any man should boast.
Hello everyone!
I am happy that you all have stopped by to this blog to share the word of GOD!
It is so comforting to know that we serve a mighty, wonderful, loving, patient , all knowing perfect GOD the creator of all heaven and earth! Our GOD is the perfect FATHER to all who have lost their FATHER or who never knew their FATHER!
We have a loving FATHER GOD. HE will be with us at all times. All we have to by faith and trust is to pray to HIM. Acknowledge that HE loves all mankind.
In order to be in heaven and to be able to dwell in our FATHER GODS house, we need to be saved by the blood of HIS son JESUS. JESUS is the only we into heaven, no works or paying large sums out to the church through donations. Good deeds towards men as how you alone see fit.
GOD is the last judge of all things, no human. So in order to please our loving GOD will do as HE says to spend all eternity with HIM in heaven. Repentance (turning away from sin) and following GODS law will never be easy. We need JESUS for help as we pray for strength and faith.
JESUS IS THE WAY AS WE PRAY!
To be able to look into our creators eyes and see the kind of love we have never ever seen before as humans here on earth will be awesome beyond words.
Pray.
Trust.
Believe.
Wait on the LORD.
Gain and increase your faith.
Create a solid relationship with GOD and HIS beloved son JESUS
Accept the gift from our beloved FATHER GOD. It is the gift of JESUS as our salvation so we will live for all eternity with FATHER GOD and HIS son JESUS for all eternity long.
Please feel free to share this blog, click the like button. Pass the message on and let them know of the other posts here at this blog as well too. Thank you! Encourage others to salvation as the time grows closer to the return of out savior JESUS!
Peace!! And many Blessings to you all!!
#GOD, #GOD FIRST, #JESUS, #JESUSSONOFGOD, #PEACE, #PRAYER, #LOVE. #JOY, #RELIGION, #GOOGLE, #YAHOO, #AOL, #BING, #INSTAGRAM, #FACEBOOKGROUPS