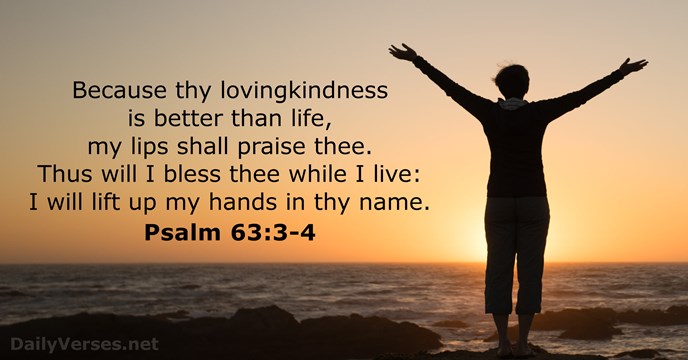 Hello everyone!
I do hope that you all have had a blessed week and will continue to be blessed and nt stressed! Know that we have a loving FATHER in heaven that watches over us all!
In these days and times we are in in 2021, if we all were paying attention….we saw many changes coming about. Be it in the air, with the earth or all life within. We have seen changes. Staring more so with Covid in 2019 making the news.
This is why I say that GOD is in control when Covid-19 first started to get attention, and when the virus is no longer a deadly threat to all of mankind. We need to depend on our loving and perfect GOD at all times!
Bless GOD for pulling you through to see another day of life and to give our GOD praise! Give GOD the glory at all times be it good or bad times!
Talk to GOD, thank GOD for JESUS! For giving us all a chance to dwell with HIM in all eternity where there will be peace! We serve a mighty and loving GOD!
Bible Verses About Praising God
Psalms 150:1 – 127:6 – Praise ye the LORD. Praise God in his sanctuary: praise him in the firmament of his power. 

Psalms 95:1-11 – O come, let us sing unto the LORD: let us make a joyful noise to the rock of our salvation.   

James 5:13 – Is any among you afflicted? let him pray. Is any merry? let him sing psalms.

Psalms 115:1 – Not unto us, O LORD, not unto us, but unto thy name give glory, for thy mercy, and for thy truth's sake.

Psalms 24:8-10 – Who is this King of glory? The LORD strong and mighty, the LORD mighty in battle.   

Deuteronomy 28:1-68 – And it shall come to pass, if thou shalt hearken diligently unto the voice of the LORD thy God, to observe and to do all his commandments which I command thee this day, that the LORD thy God will set thee on high above all nations of the earth:   

2 Samuel 22:50 – Therefore I will give thanks unto thee, O LORD, among the heathen, and I will sing praises unto thy name.

Psalms 103:2 – Bless the LORD, O my soul, and forget not all his benefits:

Mark 10:27 – And Jesus looking upon them saith, With men it is impossible, but not with God: for with God all things are possible.

Psalms 1:1-6 – Blessed is the man that walketh not in the counsel of the ungodly, nor standeth in the way of sinners, nor sitteth in the seat of the scornful.   

Hebrews 13:8 – Jesus Christ the same yesterday, and to day, and for ever.

Psalms 91:1-16 – He that dwelleth in the secret place of the most High shall abide under the shadow of the Almighty.   

2 Timothy 1:7 – For God hath not given us the spirit of fear; but of power, and of love, and of a sound mind.

John 14:26 – But the Comforter, which is the Holy Ghost, whom the Father will send in my name, he shall teach you all things, and bring all things to your remembrance, whatsoever I have said unto you.

Psalms 103:1-2 – (A Psalm of David.) Bless the LORD, O my soul: and all that is within me, bless his holy name.   

Psalms 144:1 – (A Psalm of David.) Blessed be the LORD my strength, which teacheth my hands to war, and my fingers to fight:

Psalms 22:3 – But thou art holy, O thou that inhabitest the praises of Israel.
If you can cheer at your favorite sports team in the stadium or on the television, then you can give GOD praise with a whole loving heart.
I tell you it will feel good to your soul to give an honest praise to GOD and to thank HIM for pulling you through this covid plague. Many people have not made it through. But be grateful to GOD you have along with the other blessings HE has given you.
If you made it through a fire, flood, tornado or another issue…PRAISE GOD you did. For you have purpose and a job to do for our GOD. Thank our GOD for HIS son JESUS so we will enjoy peace for the sacrifice JESUS gave on the cross. For accepting JESUS as savior too.
Praise GOD for another day of life and a second chance to be saved!
Pass this to others so they will share the blessing of GODS word. Please click like below. Thank you very much for stopping by to share the love for GOD and HIS son JESUS! Have a blessed day!
Peace!!!!
#GOD, #JESUS, #FAITH, #RELIGION, #PEACE, #SALVATION, #PRAYER, #PRAISINGGOD, #LOVE, #GOOGLE, #YAHOO, #INSTAGRAM, #FACEBOOK, #BIBLE