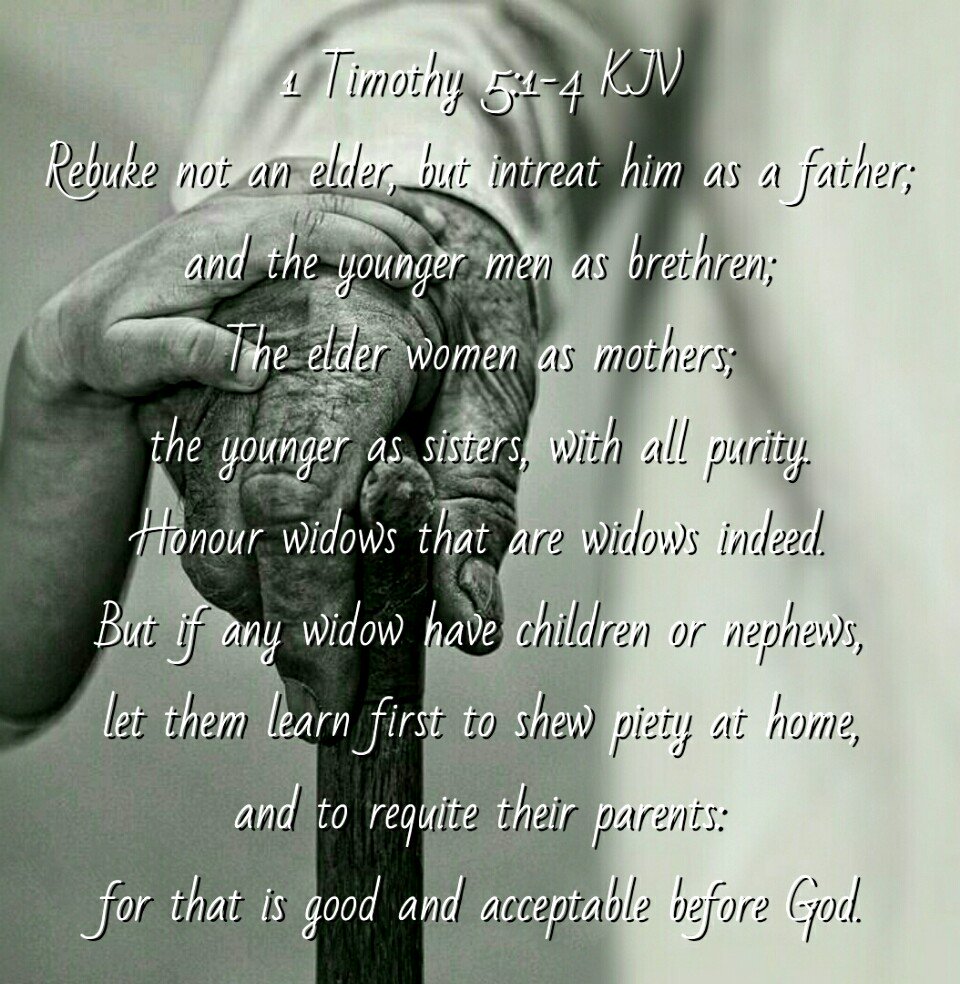 Hello all!
How are you all doing today? I do pray that you all will have a blessed day today and enjoy this day that our beloved GOD has made for us. Where I am right now it is raining and cold. And this is how our beloved FATHER GOD wants it to be right now so that the earth can rest and be ready to wake up from its sleep and rest.
The earth is obeying and not rebelling. As in the circle of life, to honor our GOD we listen to HIM and HIS will. If we do not listen to the FATHER , things do not go well.
And this applies to earthly Dads to his children as well too. As well as for the Moms as well too. The Bible is very, very clear as to what we are to do as to respect our Parents. We will have a long life in the LORD when we do.
There is a trend that is concerning me that has gotten worse over the recent years as to how a child should react to elders. This is from Steve Harvey. This is funny to him in his lifestyle and way of thinking. But when you were raised up different and in the Church….this is not how you talk to adults. I have seen kids when I was 3 years old like this child act like this and was sent out of the classroom. The same evil but on a different face. Clearly no respect for the teacher at all. None.
In no way do I think this is funny or cute. This clip above I am showing you is said to be from 2019. She was 3 then so in 2022 she will be only 6. And if she was not corrected…she could be worse. The kids I knew that where in my class in school, all through the years who acted like this began to skip class. Teachers did not want them in class because they disrespected them as elders.
Let us be and stay in prayer for our children and ALL children. These babies that are born right now have a terrible time ready for them as we wait for JESUS to return. May babies will not be taught anything about salvation for if they may come from a household that does not teach it.
So those of us who teach our babies to behave will have other children in the classroom who act like the 3 year old mentioned above or the teenager Jesse below. ALL babies, children and teens need prayer. Even if you know them or not, for you do not know if they were taught about salvation. They need their souls protected by the blood of JESUS.
They need to feel and know the pure joy of the LORD GOD and HIS son JESUS! If they did not learn this yet they need to right now ASAP. For the devil is cunning and forever busy and annoying if we do not have the love and help from JESUS.
Bible Verses About Respecting Your Elders
1 Timothy 5:1-2 – Rebuke not an elder, but intreat him as a father; and the younger men as brethren;   

Proverbs 19:20 – Hear counsel, and receive instruction, that thou mayest be wise in thy latter end.

Hebrews 13:17 – Obey them that have the rule over you, and submit yourselves: for they watch for your souls, as they that must give account, that they may do it with joy, and not with grief: for that is unprofitable for you.

1 Peter 5:5 – Likewise, ye younger, submit yourselves unto the elder. Yea, all of you be subject one to another, and be clothed with humility: for God resisteth the proud, and giveth grace to the humble.

Ephesians 6:1 – Children, obey your parents in the Lord: for this is right.

Leviticus 19:32 – Thou shalt rise up before the hoary head, and honour the face of the old man, and fear thy God: I am the LORD.

Luke 17:1-37 – Then said he unto the disciples, It is impossible but that offences will come: but woe unto him, through whom they come!   

Genesis 27:1-46 – And it came to pass, that when Isaac was old, and his eyes were dim, so that he could not see, he called Esau his eldest son, and said unto him, My son: and he said unto him, Behold, here am I.   
Ruth 1:1-22 – Now it came to pass in the days when the judges ruled, that there was a famine in the land. And a certain man of Bethlehemjudah went to sojourn in the country of Moab, he, and his wife, and his two sons.   

Genesis 5:1-32 – This is the book of the generations of Adam. In the day that God created man, in the likeness of God made he him;   (Read More…)

Proverbs 19:2 – Also, that the soul be without knowledge, it is not good; and he that hasteth with his feet sinneth.

2 Samuel 1:1-27 – Now it came to pass after the death of Saul, when David was returned from the slaughter of the Amalekites, and David had abode two days in Ziklag;   
But to think if these children used this same energy to save others if they had the love of JESUS in them? They would be doing GOD'S will and would feel the love of GOD covering them at all times an everywhere they would be. Not holding on to anger and not even knowing for sure as to why they are angry.
As elders to babies, children and teens, we all need to be listening to the greatest and leading Elder of them all…FATHER GOD our Creator. HE will instruct us and guide us as what to do and when to help the youth around us. Just because we are elder to these youth groups does not mean we all are saved and have GODLY wisdom. Some can be just elders who have not been corrected by a GODLY person since they were 3 years old.
Stay in prayer for the elders and the very young too. Thank you for stopping by this blog today. I thank you for your time. Please click on the like button below and leave a comment. Feel free to share this with others and pass forward the word of GOD. Be blessed and never stressed!
Peace!!!!