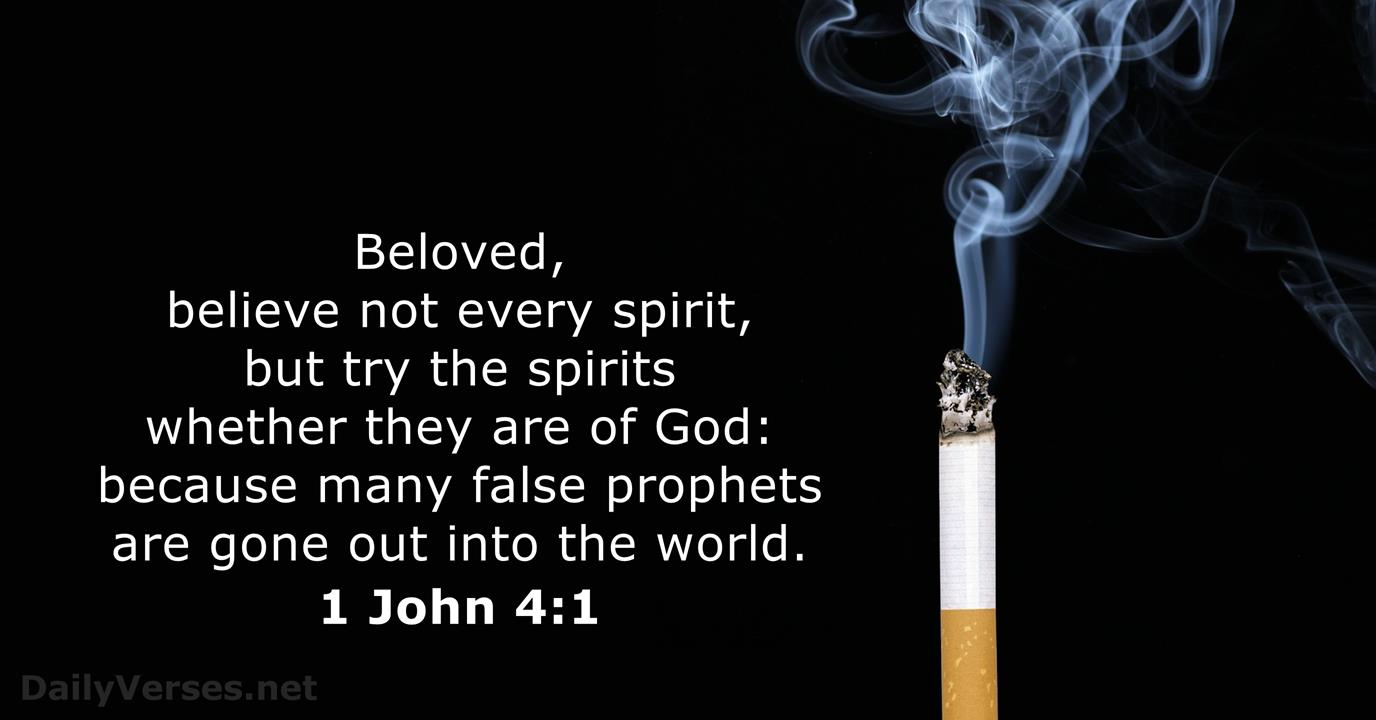 Hello everyone!
I do hope that all is well with as we all go through our days here on GOD's earth. What I have to share with you is about false teachings. And these false teaching are any so-called religion that does not teach about salvation, accepting JESUS as savior. For our beloved JESUS is the only way to heaven. Not by good works.
My friends, I have known many people who were Jehovah witnesses. Some come to my door and some I work with. And all of them are polite, well meaning people. But none of them have accepted JESUS as their savior. And for those of us that know what true salvation is….it is accepting JESUS as savior for HE is the only way into heaven to be with the FATHER GOD.
1 John 4:1
"Beloved, believe not every spirit, but try the spirits whether they are of God: because many false prophets are gone out into the world."

King James Version (KJV)
And when we do not accept our beloved JESUS as savior you will not be going to heaven. If you demote JESUS as just a man, not celebrate Christmas as the birth of JESUS, don't acknowledge JESUS as the one and only way to heaven, feel their is not hell, you will get into heaven by doing good works, will not pray with a true believer of JESUS CHRIST as savior, and do not share the body of CHRIST JESUS you have rejected your salvation.
And if you lead people away from JESUS, that is not good either. The Bible that the JW's read was altered. And this was done by the people who was part of the watchtower of 1879. Originally it was called "Zion's Watchtower and Herald of Christ's Presence" By Charles Taze Russell a descendent of Scott-Irish parents. Read more about him here: https://en.wikipedia.org/wiki/Charles_Taze_Russell . They were an all white group of men who sat down to rewrite the Bible to how they saw fit. He and his dad were associated with William Miller and George Storrs. Read more about it here: https://en.wikipedia.org/wiki/The_Watchtower. These men were able to what they thought were predicting the exact time when JESUS was to return.
Now see the Bible I read says:
Matthew 24:36
"But of that day and hour knoweth no man, no, not the angels of heaven, but my Father only."

King James Version (KJV)
With this verse alone will tell you that what they are told through Mr. Russell is not correct. And here is some more from the KJV of the Bible below.
Bible Verses About Jesus Return
Matthew 24:36 – But of that day and hour knoweth no [man], no, not the angels of heaven, but my Father only.

1 Corinthians 15:52 – In a moment, in the twinkling of an eye, at the last trump: for the trumpet shall sound, and the dead shall be raised incorruptible, and we shall be changed.

Matthew 25:13 – Watch therefore, for ye know neither the day nor the hour wherein the Son of man cometh.

Matthew 24:27 – For as the lightning cometh out of the east, and shineth even unto the west; so shall also the coming of the Son of man be.

Hebrews 9:28 – So Christ was once offered to bear the sins of many; and unto them that look for him shall he appear the second time without sin unto salvation.

Matthew 24:44 – Therefore be ye also ready: for in such an hour as ye think not the Son of man cometh.

Revelation 20:4 – And I saw thrones, and they sat upon them, and judgment was given unto them: and [I saw] the souls of them that were beheaded for the witness of Jesus, and for the word of God, and which had not worshipped the beast, neither his image, neither had received [his] mark upon their foreheads, or in their hands; and they lived and reigned with Christ a thousand years.

John 6:50-71 – This is the bread which cometh down from heaven, that a man may eat thereof, and not die. (Read More…)

Revelation 11:19 – And the temple of God was opened in heaven, and there was seen in his temple the ark of his testament: and there were lightnings, and voices, and thunderings, and an earthquake, and great hail.

Luke 21:25-28 – And there shall be signs in the sun, and in the moon, and in the stars; and upon the earth distress of nations, with perplexity; the sea and the waves roaring; (Read More…)

1 Thessalonians 5:1-3 – But of the times and the seasons, brethren, ye have no need that I write unto you. (Read More…)

Revelation 19:12-16 – His eyes [were] as a flame of fire, and on his head [were] many crowns; and he had a name written, that no man knew, but he himself. (Read More…)

John 10:28-30 – And I give unto them eternal life; and they shall never perish, neither shall any [man] pluck them out of my hand. (Read More…)
False prophets will say they are JESUS or someone will say they know when JESUS is coming and will return to earth. This is what Mr. Russell and the men in his association of watchtower believers. You know there are from what I have read that there are around 8 million people caught up in this? That means there are that many people who have not been saved and taught any thing about the truth of salvation from following this religion!
Here is more information that a Pastor named Time Challies who gave his thoughts on this topic. https://www.challies.com/articles/the-false-teachers-charles-taze-russell/ . I find this interesting too.
Mr. Russells beliefs come from Arianism according to what I have read. I was not quite sure what that was. When looking it up…this was not good either. https://en.wikipedia.org/wiki/Arianism.
So he had his thoughts on race as well that was not GODLY form what I understand too. They have written books that teach this racial hate. I found information on this as well too about discrimination! http://www.baytagoodah.com/uploads/9/5/6/0/95600058/jehovahs_witnesses_blacks_and_discrimination.pdf
Now if you are a Christian , what did GOD say about hate?
Bible Verses About Hate
1 John 4:20 – If a man say, I love God, and hateth his brother, he is a liar: for he that loveth not his brother whom he hath seen, how can he love God whom he hath not seen?

Proverbs 10:12 – Hatred stirreth up strifes: but love covereth all sins.

1 John 3:15 – Whosoever hateth his brother is a murderer: and ye know that no murderer hath eternal life abiding in him.

Proverbs 6:16-19 – These six [things] doth the LORD hate: yea, seven [are] an abomination unto him:   (Read More…)

Leviticus 19:17 – Thou shalt not hate thy brother in thine heart: thou shalt in any wise rebuke thy neighbour, and not suffer sin upon him.

1 Corinthians 13:4-7 – Charity suffereth long, [and] is kind; charity envieth not; charity vaunteth not itself, is not puffed up,   (Read More…)

Ephesians 4:29 – Let no corrupt communication proceed out of your mouth, but that which is good to the use of edifying, that it may minister grace unto the hearers.

1 John 2:9 – He that saith he is in the light, and hateth his brother, is in darkness even until now.

Proverbs 15:1 – A soft answer turneth away wrath: but grievous words stir up anger.

John 13:34-35 – A new commandment I give unto you, That ye love one another; as I have loved you, that ye also love one another.   (Read More…)

Proverbs 8:13 – The fear of the LORD [is] to hate evil: pride, and arrogancy, and the evil way, and the froward mouth, do I hate.

Romans 1:26-27 – For this cause God gave them up unto vile affections: for even their women did change the natural use into that which is against nature:   (Read More…)

John 15:18 – If the world hate you, ye know that it hated me before [it hated] you.

1 John 2:11 – But he that hateth his brother is in darkness, and walketh in darkness, and knoweth not whither he goeth, because that darkness hath blinded his eyes.

Matthew 6:24 – No man can serve two masters: for either he will hate the one, and love the other; or else he will hold to the one, and despise the other. Ye cannot serve God and mammon.
When I researched the beginnings of this JW religion, I was not finding anything good that related to the scripture I read because the doctrine was changed from what GOD had said. So if they stay in this faith and turn their heart from the truth they will die in a lie told to them by the devil. I can go further on with giving information. But I do ask all who are in this doctrine to reconsider what they are spending their time on reading.
GOD loves you.
Do not turn from the truth. Pray to GOD for the truth. Stay still and listen for him to tell you the words that are true. GOD is not a man that will ever lie to you.
Prayer and research. And then pray even more! The devil is a liar and hates you. GOD LOVES YOU!!!!
PEACE!!!!