Hello everyone.
Thank you for stopping by to read this post. It is a blessing to be able to share the word of GOD to other believers too. In this day and age it seems like less and less people believe in GOD and are willing to hear about HIM or HIS word.
Not many people understand the meaning of why we celebrate Easter. For Easter is a religious holiday. They think about the Easter bunny who is giving away his eggs to little children. The easter bunny has nothing to do with easter for it is not in the bible. As far as know male bunnies don't lay eggs. Only female chickens lay eggs.
KJV Dictionary Definition: easter
E'ASTER, n.
A festival of the Christian church observed in commemoration of our Savior's resurrection. It answers to the Pascha or Passover of the Hebrews, and most nations still give it this name, Pascha, Pask, Paque.
GOD has given the whole world HIS son. GOD gave. HIS son to save our souls from the sins we all have done. This is showing just how much the LORD GOD loves us mankind. As to do something as grand as this. And for JESUS to listen and obey our FATHER GOD as to go through all of the torture, beatings and abuse is so mind boggling.
Mark 15:19
"And they smote him on the head with a reed, and did spit upon him, and bowing their knees worshipped him."King James Version (KJV)
And when they were done doing that, they got worse. They made a crown of thorns mocking our beloved JESUS to sit on HIS that was already bloody and beaten. Making whatever they did to HIM feel even worse. That pain must have been so horrible. Even more that what you I could expect.
Matthew 26:56 KJV
56 But all this was done, that the scriptures of the prophets might be fulfilled. Then all the disciples forsook him, and fled.Matthew 26:56 (KJV 1900): 56 But all this was done, that the scriptures of the prophets might be fulfilled. Then all the disciples forsook him, and fled.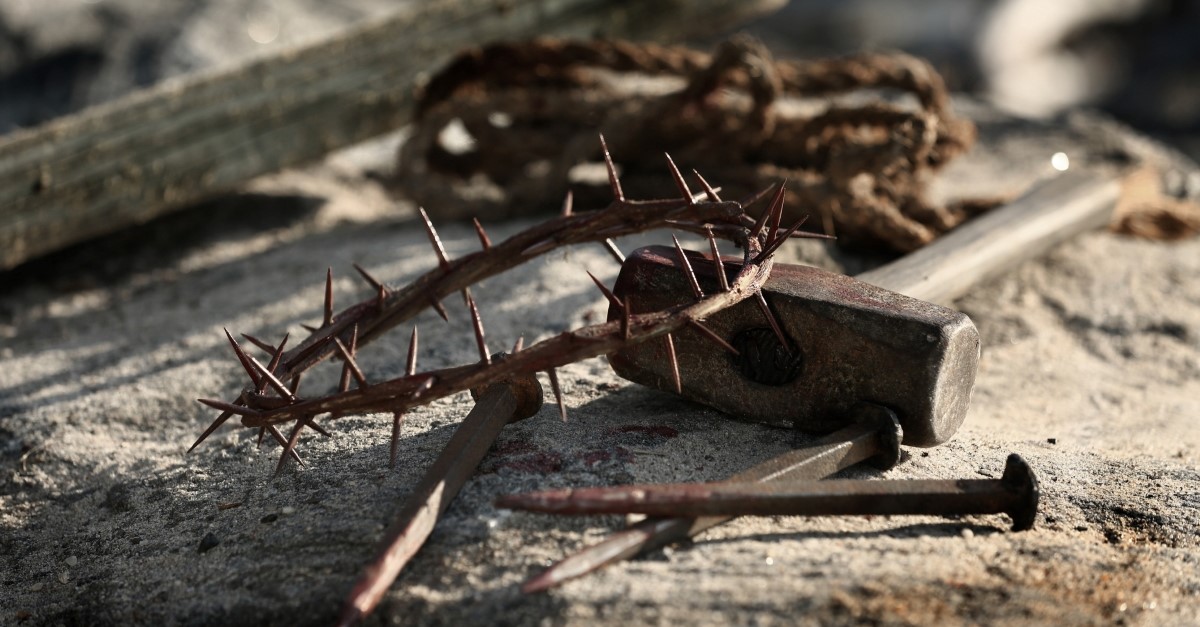 When you see these modern-day pictures of JESUS from being tortured, they do not have it right according to what the Bible says.
Isaiah 50:6 KJV
6 I gave my back to the smiters,
And my cheeks to them that plucked off the hair:
I hid not my face from shame and spitting.
Jesus's beard was pulled out too. All of the face wounds made HIM look unrecognizable.
Isaiah 52:14King James Version
14 As many were astonied at thee; his visage was so marred more than any man, and his form more than the sons of men:
By Mathew Benjamin Brady – National Portrait Gallery, Smithsonian Institution, Public Domain, https://commons.wikimedia.org/w/index.php?curid=27864354
Learning as to what was done to JESUS from the Bible is very hurtful to know all that was done to HIM because of what we mankind had done. It was called scourged through the use of a whip called "Cat-o-nine tails".
JESUS was beaten even far worse than this man is shown in this picture by the same type of whip used on our beloved JESUS CHRIST. This and to the end were done all because each and every single human born after Eve was a sinner and unclean. Needing a savior, needing our beloved JESUS to save us from hell.
Having nails driven into HIS innocent hands for the whole mankind. This is horrific what was done to the son of GOD. No one but JESUS can love us this way as to die for us, being the sacrifice that was needed to save us mankind. And it is mankind that HE came to save that beat HIM so horrible too.
Please do remember what JESUS has done for all of us mankind this coming Easter. Its not about the chocolate candy in the easter baskets or the baskets or getting a new outfit to wear to Church for easter to only one time you do go to Church during the whole year.
It is about salvation. Where your soul will rest for all eternity long. For being grateful to JESUS for going through a hell on earth to save our soul in HIS short time here on earth. Those scars, blows to the head, spitting, whipping and cuts show just how awful sin is to GOD the FATHER.
And this is why we need a savior named JESUS the son of GOD.
Praise and glory be to GOD ALMIGHTY for HIS beloved son JESUS.
Please do click on the like button and pass this forward so others will receive the blessing of reading the word of GOD. Also more reading here at this site. https://jesusalive.cc/jesus-sufferings-final-day/
Peace and blessing!!