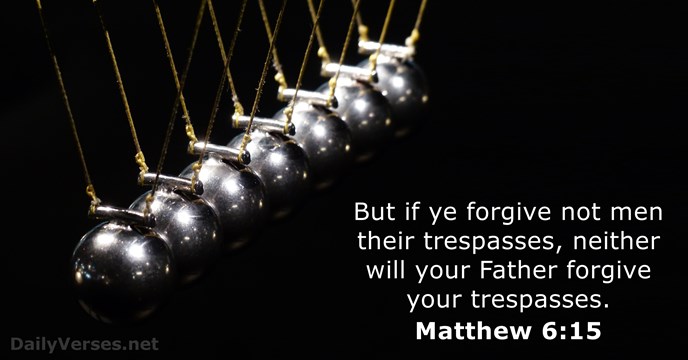 Hello everyone!
I do hope that you all are well and warm on this cold day here up north or are comfortable no matter where you are on GOD's earth. It is so good to know we have a patient and loving GOD who watches over us all. Be it those of us who are saved or not. GOD waits for us to come to HIM, it is our choice whether to love GOD and HIS beloved son or not.
It is our choice whether to forgive and pray for our enemies or not too. For if we do not forgive, how can we be forgiven by GOD? It is not easy to forgive anyone who has hurt you. A school mate, a neighbor, a spouse, a family member, a co worker, even a stranger who you will most likely never see again. But it needs to be done so we do not hold the feelings in you of hurt that they have put upon you.
And if you see this person day to day, you are remembered of what they had done to you when you see them. This is the hardest thing to do , is to forgive when you are hurt. I am sure there are many who are reading this was hurt by someone.
But what about those of us who had hurt someone else? You want those you hurt to forgive you too right? So here's the thing. GOD wants us all to forgive so we all can be forgiven. Its is how GOD wants it so it should be done as such. GOD will forgive us too.
Ephesians 4:26
"Be ye angry, and sin not: let not the sun go down upon your wrath:"

King James Version (KJV)
Communication is very important when we talk to each in hoping a truthful understand was accomplished. This is not always the case even with brothers and sisters in the LORD. I have seen men not speak to each other for years over a simple misunderstanding and not wanting to do what GOD says to do. Being prideful. One more stubborn than the other who will not accept the apology under any circumstances.
Not doing GOD's will by being stubborn and not wanting to forgive. Even when one wants to make things right, both have to forgive and make peace. Both! Because the devil loves it when people do not get along and want peace, the devil does not want people to forgive each other.
But remember, it is GOD's heaven. We all need to understand this, GOD does not want any strife in HIS heaven. A 1/3 of the bad angels got kicked out of heaven for causing strife!
Luke 10:18
"And he said unto them, I beheld Satan as lightning fall from heaven."

King James Version (KJV)
Mankind does not rule anyone or anything. All creation belongs to GOD. Let us treat each other with respect. When a fellow mankind is saying things to you, or doing things to you that is not right in GODS eye and you don't like it think about this. Remember the things you may have said or done your whole life that you have done to people. Things that may have hurt them knowingly or knowingly. You want GOD to forgive you too of these things too. GOD knows all, sees all too.
Make amends with those around you. Don not let either one of you die, and then you can not forgive the person or they forgive you. If there is not way to find to locate them on your own, pray and pray some more to forgive them. So that you will be forgiven as well too.
Don't take your anger to the grave when then it is too late. JESUS forgave us of our sins. HE sacrificed HIS Self on the cross. JESUS was treated so horrible and gave HIS life for all of us mankind so we all can be forgiven.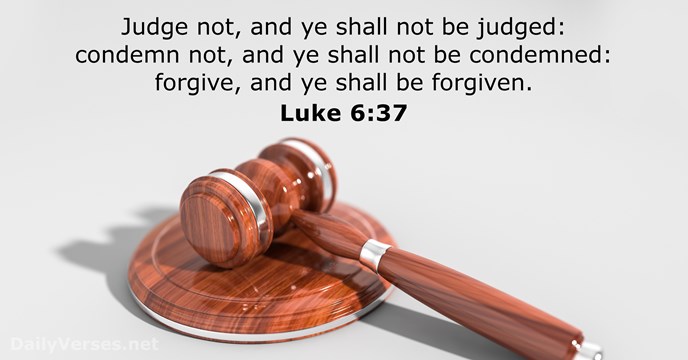 This human thing about judging others we do not even know in a ungodly way is wrong too. What does the bible say about that? You can hurt others by judging them to be ungodly when you are doing the very thing first! Which is being ungodly by judging. Such as saying "those people are like this or that." And they can be more righteous and faithful to GOD than you are and have accepted JESUS as savior. So you will want to be forgiven of these thoughts towards people or a person you do not know. Let us study the word together in unity for peace.
Bible Verses About Forgiveness
Mark 11:25 – And when ye stand praying, forgive, if ye have ought against any: that your Father also which is in heaven may forgive you your trespasses.

Ephesians 4:32 – And be ye kind one to another, tenderhearted, forgiving one another, even as God for Christ's sake hath forgiven you.

Matthew 6:15 – But if ye forgive not men their trespasses, neither will your Father forgive your trespasses.

1 John 1:9 – If we confess our sins, he is faithful and just to forgive us our sins, and to cleanse us from all unrighteousness.

Matthew 18:21-22 – Then came Peter to him, and said, Lord, how oft shall my brother sin against me, and I forgive him? till seven times?   

Matthew 6:14-15 – For if ye forgive men their trespasses, your heavenly Father will also forgive you:   

James 5:16 – Confess your faults one to another, and pray one for another, that ye may be healed. The effectual fervent prayer of a righteous man availeth much.

Luke 6:27 – But I say unto you which hear, Love your enemies, do good to them which hate you,

Luke 6:37 – Judge not, and ye shall not be judged: condemn not, and ye shall not be condemned: forgive, and ye shall be forgiven:

Colossians 3:13 – Forbearing one another, and forgiving one another, if any man have a quarrel against any: even as Christ forgave you, so also do ye.

Psalms 103:10-14 – He hath not dealt with us after our sins; nor rewarded us according to our iniquities.   

1 Corinthians 10:13 – There hath no temptation taken you but such as is common to man: but God is faithful, who will not suffer you to be tempted above that ye are able; but will with the temptation also make a way to escape, that ye may be able to bear it.

Proverbs 10:12 – Hatred stirreth up strifes: but love covereth all sins.
It is good that we serve such a loving one and only true living GOD , and have been saved by HIS son JESUS who sacrificed HIS self on the cross for our sins. This is forgiveness from the FATHER and the SON!
Thank you for dropping by today to share this thought and the word of GOD! Please do share this message with others so they will share the blessing as well. Please do click n the like button below. Have a blessed day!
Peace!!!