Hello and happy new year 2021!
GOD is good!
GOD brought us all into another year of life and another chance for all who are not saved to be saved by the HOLY SPIRIT! If you all agree reply with an grateful "AMEN!" in the comments section. Even if you are still shut in because of the covid-19 virus, when this is all done we will be able to testify that our GOD got us thru this by HIS grace!!!
AAAAAMEN!!!!
a·men/äˈmen,āˈmen/Learn to pronounce exclamation
Uttered at the end of a prayer or hymn, meaning 'so be it.'.
There are times when you will hear our beloved GOD warn us about things that only HE can. HE will instruct us to do things that is in HIS will and not of our own. We are all meant to serve GOD with a loving heart. And when we do, we feel a peace about it. We are in the spirit, in the connection, and in the body of CHRIST too…the HOLY triune of GODS love is what I want to call it.
So when a situation happens that is not in our control we need our FATHER GOD to show us who is the ultimate BOSS! GOD!!! Listen to what this Dad had to do when his 24 year old son fell sick. He listened to GODs warning and direction. This is the key. The Dad listened to GOD to help his child! He was not being in the flesh in thinking, he was in the HOLY SPIRIT by communicating with GOD.
Romans 8:9
"But ye are not in the flesh, but in the Spirit, if so be that the Spirit of God dwell in you. Now if any man have not the Spirit of Christ, he is none of his."

King James Version (KJV)
Romans 8:9-11King James Version
9 But ye are not in the flesh, but in the Spirit, if so be that the Spirit of God dwell in you. Now if any man have not the Spirit of Christ, he is none of his.
10 And if Christ be in you, the body is dead because of sin; but the Spirit is life because of righteousness.
11 But if the Spirit of him that raised up Jesus from the dead dwell in you, he that raised up Christ from the dead shall also quicken your mortal bodies by his Spirit that dwelleth in you.
I know for myself and my family, when we communicate and OBEY GOD's direction in life we are at peace with GOD. Life is not complicated or empty because we have our heavenly FATHER GOD to fill it with what we need at all times.
Romans 8:9 Context
6For to be carnally minded is death; but to be spiritually minded is life and peace. 
7Because the carnal mind is enmity against God: for it is not subject to the law of God, neither indeed can be. 
8So then they that are in the flesh cannot please God.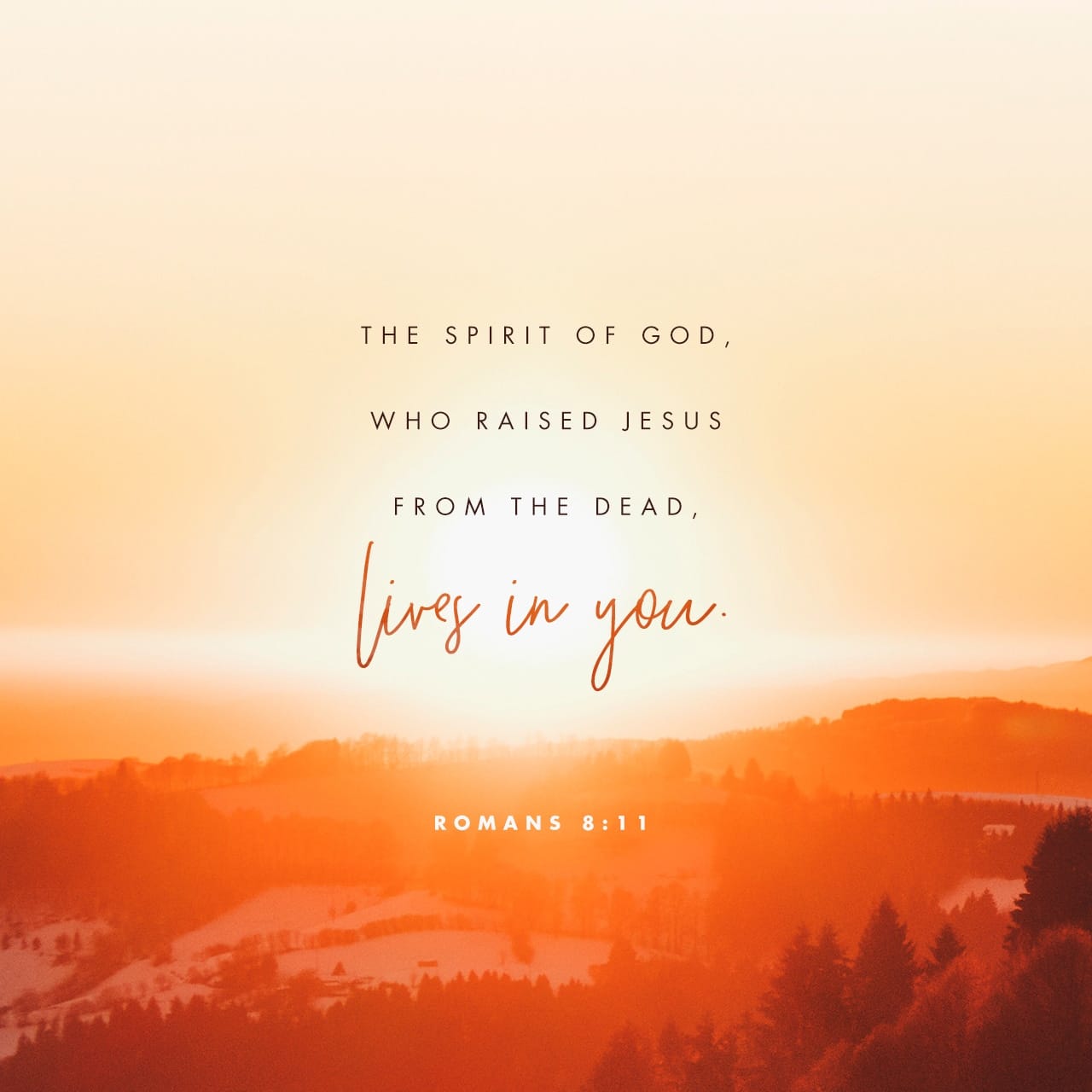 I ask you all to pray for this new year and for every living soul that walks on our GOD's earth that some how they will make the right choice of repentance if they are not saved right now to repent and accept JESUS as their savior. To be saved from hell with not having and peace for all of eternity long. Listen to what the young man said about hell in the video. We do not want anyone to be there in hell, we pray that they will be saved. Choose to be saved and not turn their back on GOD.
I have met more than one person in my life that has turned their back on GOD and HIS son JESUS. One person we have prayed over since 2016 is still walking in the darkness away from GOD's light. Gave them scripture to read and the Bible, which they said thank you for when I did. But really was not sincere. So they are still struggling to this day as to turning away from our GOD by loving sin. This is really sad. You can see how troubled they are when you see them. For they do not understand what they are doing by turning their back on GOD like this. But we continue to pray for them. Our GOD will work it out.
So for this new year, let us keep our faith and stay firm in the word of GOD. Let GOD guide us in all we do as we do HIS will first and foremost, not our own. We humans think we now what we are doing, but we do not have all of the answers. So by saying this, we need to depend on GOD at all times for all things.
Feel free to share, like and pass it forward to anyone and everyone the word of GOD.
Peace!!!
#GOD, #JESUS, #LOVE, #PEACE, #JOY, #PRAYER, #GOOGLE, #YAHOO, #YOUTUBE, #AOL