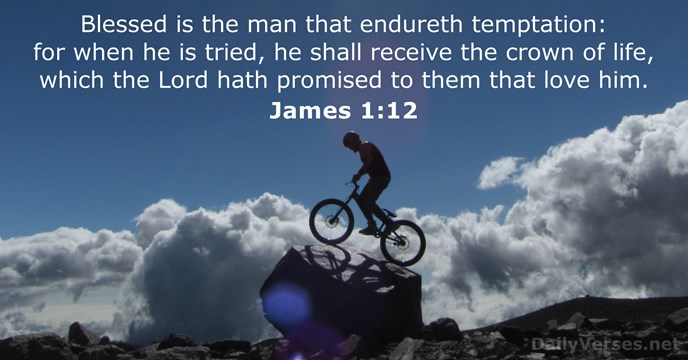 Hello everyone, thank you all for stopping by to read GOD's words and my blog! For the word of GOD is very encouraging and loving for us all.
Many times we as Christians will go through tribulations that are coming from those unsaved people who have an evil heart. Suffering from what they do for as long as they think they can get away with what they do. Some may stop after a time, and some will take that evil with them to the grave.
The evil one has them and their souls. And wants all of GOD's children to fall from grace as he has done before the creation of mankind. So we need to always pray and ask our GOD for strength to make it through theses tests of faith.
The devil is persistent, and because we mankind are in GOD's image, for the devil tempted Adam and Eve in the garden of eden.
Revelation 12:7 – 12:9
7 And there was war in heaven: Michael and his angels fought against the dragon; and the dragon fought and his angels,
8 And prevailed not; neither was their place found any more in heaven.
9 And the great dragon was cast out, that old serpent, called the Devil, and Satan, which deceiveth the whole world: he was cast out into the earth, and his angels were cast out with him.
We go through these tests of faith and pull through them so we can be stronger, give GOD praise for saving us and pulling us through. This encourages others and they will see our faith and seek after our GOD.
Many times our GOD has done things for me and all of my loved ones. I will tell of the time when there was an icy road we had to cross to get home. Our GOD spared both my husbands life and mine on that cold night a few months ago. Praise GOD now and for all of eternity long!!!!
See our car could have been totaled, we could have been in the hospital or have died. But he spared us from getting hurt in that ditch, and we did not have to pay a large bill for the car to be fixed or ge a new one. A simple tyrid and a new tire was all we needed. Praise and glory be to GOD ALMIGHTY now and for all of eternity long! 🙂
Bible Verses About Trials And Tribulations
1 Peter 5:10 – But the God of all grace, who hath called us unto his eternal glory by Christ Jesus, after that ye have suffered a while, make you perfect, stablish, strengthen, settle [you].

James 1:12 – Blessed [is] the man that endureth temptation: for when he is tried, he shall receive the crown of life, which the Lord hath promised to them that love him.

Romans 12:12 – Rejoicing in hope; patient in tribulation; continuing instant in prayer;

1 Corinthians 10:13 – There hath no temptation taken you but such as is common to man: but God [is] faithful, who will not suffer you to be tempted above that ye are able; but will with the temptation also make a way to escape, that ye may be able to bear [it].

John 16:33 – These things I have spoken unto you, that in me ye might have peace. In the world ye shall have tribulation: but be of good cheer; I have overcome the world.

Exodus 14:14 – The LORD shall fight for you, and ye shall hold your peace.

James 1:2-8 – My brethren, count it all joy when ye fall into divers temptations;

Philippians 4:6-7 – Be careful for nothing; but in every thing by prayer and supplication with thanksgiving let your requests be made known unto God.
Proverbs 3:5-6 – Trust in the LORD with all thine heart; and lean not unto thine own understanding.

Romans 5:3 – And not only [so], but we glory in tribulations also: knowing that tribulation worketh patience;

Psalms 23:4 – Yea, though I walk through the valley of the shadow of death, I will fear no evil: for thou [art] with me; thy rod and thy staff they comfort me.

Romans 8:18 – For I reckon that the sufferings of this present time [are] not worthy [to be compared] with the glory which shall be revealed in us.

Hebrews 10:35 – Cast not away therefore your confidence, which hath great recompence of reward.

James 1:2 – My brethren, count it all joy when ye fall into divers temptations;

1 Peter 4:12 – Beloved, think it not strange concerning the fiery trial which is to try you, as though some strange thing happened unto you:

Philippians 4:13 – I can do all things through Christ which strengtheneth me.

Romans 8:28 – And we know that all things work together for good to them that love God, to them who are the called according to [his] purpose.

Psalms 34:17-18 – [The righteous] cry, and the LORD heareth, and delivereth them out of all their troubles.

Matthew 19:26 – But Jesus beheld [them], and said unto them, With men this is impossible; but with God all things are possible.

2 Corinthians 12:9 – And he said unto me, My grace is sufficient for thee: for my strength is made perfect in weakness. Most gladly therefore will I rather glory in my infirmities, that the power of Christ may rest upon me.
Just remember those people who do not know the word, do not know the power of our all might GOD will do the work of evil. They assume true Christians are weak and confused…people they can do things to and no one will care.
Ha! But GOD does. Just know when this test is done, and you come out of it clean and unharmed who did this for you. GOD and HIS son JESUS.
Have a blessed Sunday, stay in prayer at all times….avoid negative people who will try to distract you from keeping your eyes on the LORD. Feel free to pass this blog forward to those who will need to be encouraged as well too! 🙂
Peace!!!